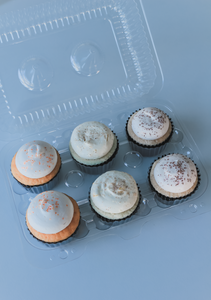 Ladies, this is for you! Our Brunch Cupcake Assortment features three delicious and decadent flavors to be enjoyed by a special lady (or let's be honest - guy too) who deserves them! Our 6 count assortment includes twoof each flavor.
Mimosa (Orange Dream with white champagne mousse) (contains .014 % alcohol)
Bellini (White champagne with peach mousse)
Rosé  (Rosé with rosé mousse) (contains .008% alcohol)
Very tasty and unique options!
Very delicious cupcakes and cakes. I have ordered multiple times and they have been a hit in our gatherings every time!! Good service too!
Would love gluten free options for the celiac members of our family. 😊
Amazing
These are truly the best in town