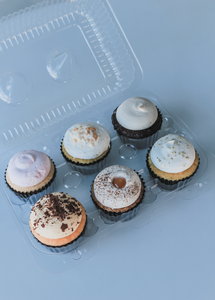 These adults-only cupcakes contain actual alcohol and are perfect to enjoy with your 21+ friends!  Our 6 count assortment includes one of each flavor.
Pink Champagne with pink champagne mousse (contains .014% alcohol)
Orange Dream with Grand Marnier mousse and chocolate curls (contains .003% alcohol)
Pina Colada with coconut mousse
Honey Bourbon Spice with honey bourbon spice mousse (contains .008% alcohol)
Chocolate with Irish cream Mousse (contains .017% alcohol)
French Vanilla with Rumchata mousse (contains .012% alcohol)
After Dark Delight
I ordered the after dark cupcakes after finding House of Claredon on Google and they did not disappoint. They were soft and the icing was amazing and light! We did not each them all and kept them in the fridge for a week and they were still amazing.