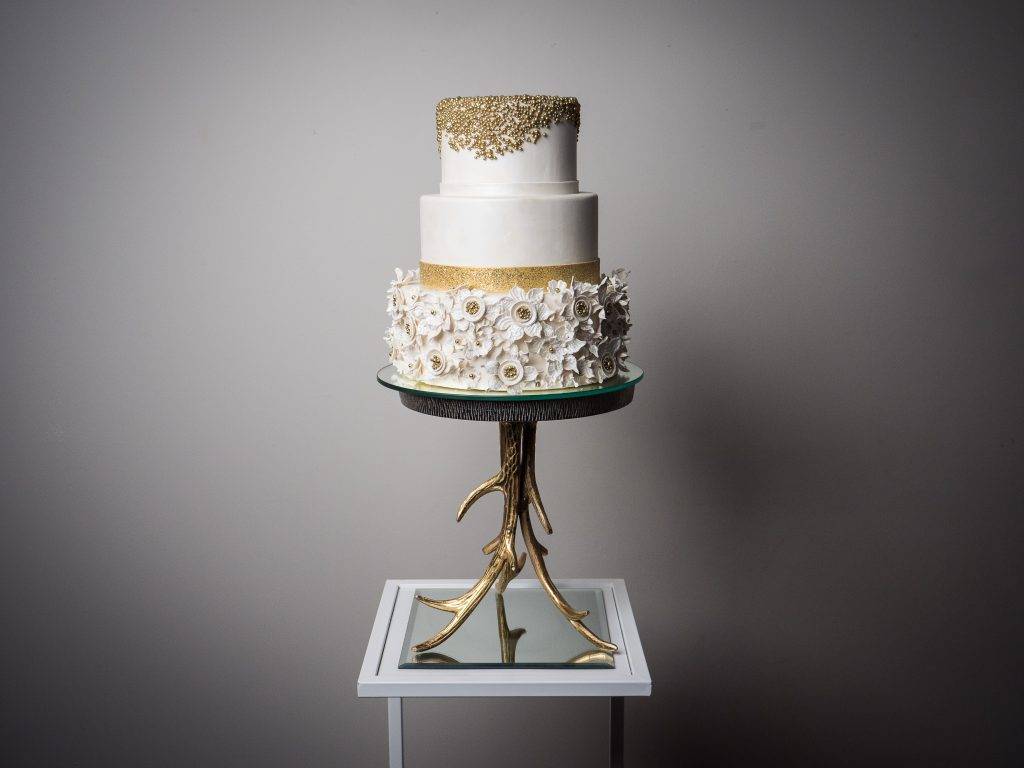 To order a custom House of Clarendon wedding cake, please meet with one of our designers. To schedule an appointment please call (717) 290-7800 x 21 or fill out our Wedding Inquiry Form. The prices listed below apply to the base cake only. Decorations are charged per slice and prices may vary based on the intricacy of your desired design or designs.

Our team of cake designers is focused on giving each of our clients a highly personalized experience. Our wedding cake consultations are private and by appointment only. We encourage you to bring inspirational materials to your consultation such as your wedding invitation and stationery, magazines, pictures, and even color and fabric swatches. A variety of wedding cake examples are available on our gallery page.
We recommend meeting three months to a year prior to your wedding date and after you book your venue. This allows us to reserve your date at our current price and plan accordingly.
We proudly serve weddings in Pennsylvania, New Jersey, Maryland, Delaware, and New York.
Almond
Cappuccino
Carrot
Chocolate
Coconut
English Toffee
French Vanilla
Lavender Petal
Lemon
Mango
Orange Sherbet Dream
Pineapple
Pink or White Champagne
Pumpkin Spice
Red Velvet
Strawberry Delight
Spice
White Velvet
Blueberry
Mango
Lemon Curd
Peach
Pineapple
Raspberry
Strawberry
Almond
Bailey's Irish Cream
Bavarian
Blueberry
Bourbon Honey Spice
Cappuccino
Chocolate
Coconut
Cream Cheese
Caramel
Dalmatian
English Toffee
French Vanilla
Hazelnut
Mango
Mocha
Lavender Lemon
Lemon
Orange Dream
Peanut Butter
Pineapple
Pink/White Champagne
Raspberry
Strawberry
White Chocolate
White Peppermint
Almond
Cappuccino

Carrot

Chocolate

Coconut

English Toffee

French Vanilla
Lavender Petal

Lemon

Mango
Orange Sherbet Dream
Pineapple

Pink or White Champagne

Pumpkin Spice

Red Velvet

Strawberry Delight

Spice
White Velvet
Blueberry
Mango

Lemon Curd

Peach

Pineapple

Raspberry

Strawberry
Almond
Bailey's Irish Cream
Bavarian
Blueberry
Bourbon Honey Spice
Cappuccino
Chocolate
Coconut
Cream Cheese
Caramel
Dalmatian
English Toffee
French Vanilla
Hazelnut
Mango
Mocha
Lavender Lemon
Lemon
Orange Dream
Peanut Butter
Pineapple
Pink/White Champagne
Raspberry
Strawberry
White Chocolate
White Peppermint