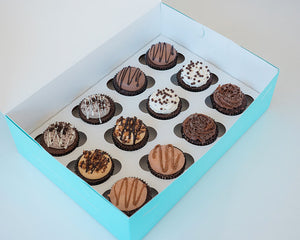 If you love all things chocolate, then this cupcake assortment is for you! Enjoy chocolate the way it was meant to be eaten with the Decadent Chocolate Lovers Cupcake Assortment! This 12 count box contains two cupcakes of each flavor.
Chocolate with cookies and cream mousse
Chocolate with chocolate mousse
Chocolate with peanut butter mousse
Chocolate with hazelnut mousse
Chocolate with caramel mousse
Chocolate with Dalmatian mousse
#HoC
Always quality, always delicious, always timely , always hospitable. If love were a food, it would be HoC cupcakes. Thanks for making our day special.
A Squirrel and cupcakes
I wanted to order a cake for a Birthday and it was in a couple days. They had perfect customer service. I asked for a fondant Squirrel. They made an amazing fondant Squirrel and great cupcakes.