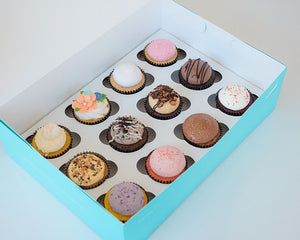 The House of Clarendon cupcake assortment features different fan-favorite picks from the House of Clarendon kitchen! This 12 count cupcake assortment features twelve different fan-favorite picks from the House of Clarendon kitchen.
Almond with raspberry mousse
Cappuccino with mocha mousse
Chocolate with chocolate mousse
Chocolate with cookies and cream mousse
Chocolate with peanut butter mousse
English Toffee with English toffee mousse
French vanilla with French vanilla mousse
Lemon with blueberry mousse
Pink champagne with pink champagne mousse
Red velvet with cream cheese mousse
Strawberry with strawberry mousse
White velvet with white icing
Best Cupcakes
Always have great Customer service and an Amazing Cake Decorator! They are by far the best cupcakes in our Area, and I always order a fondant decoration for birthdays. The fondant always looks amazing! If I could add a picture I would.
Best cupcakes ever!
Purchased the House of Clarendon cupcake assortment for my sister in laws birthday and they are hands down the best cupcakes ever. So moist and flavorful and beautiful presentation! 10/10 would recommend!
Fantastic Cupcakes
Great selection and the freshness and flavors were outstanding. Definitely be back for more.
To die for
Great options, moist and delicious cupcakes. My daughter always wants a dozen for her birthday. The guy at the counter and on the phone is so nice and friendly. Love him! You won't be disappointed. You get what you pay for.
Delicious
Cupcakes were the best I've ever had! Definitely recommend! Staff was super helpful and friendly.