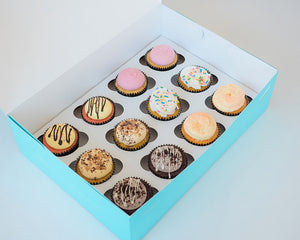 You'll have a hard time convincing yourself that you aren't in an ice cream shop when you try these delicious cupcakes! The 12 Count Ice Cream Shop Cupcake Assortment features all of your favorite ice cream flavors…in cupcake form! It contains two of each flavor.
Our ice cream cupcakes only feature the delicious flavors of ice cream - they are not made with real ice cream.
Strawberry banana smoothie (strawberry with banana mousse)
Strawberry shortcake (white velvet with strawberry mousse)
English toffee (English toffee mousse with toffee bits and caramel drizzle)
Party cake (French vanilla with sprinkles and white icing)
Cookies and cream (chocolate with cookies and cream mousse, crushed cookies, and chocolate drizzle)
Orange Sherbet (orange dream with orange dream mousse)
Scrumptious
The cupcakes were so good and practically melted in the mouth. Would definitely buy again. Everyone who tried each had their favorite. My favorites were the Orange Sherbet and the English Toffee.
Really Good!
My favorites were the Toffee Crunch, & the Strawberry Shortcake, but they were all really good!