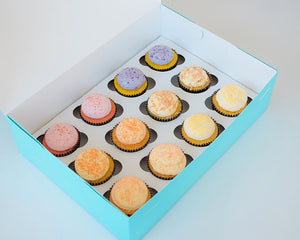 The Fruit Basket cupcake assortment features a collection of deliciously fruity cupcakes that are sure to make your mouth water! Our 12 count assortment contains two of each flavor.
Strawberry with strawberry mousse
Lemon with blueberry mousse
Mango with mango mousse
Coconut with raspberry mousse
Orange with orange dream mousse
Pineapple with coconut mousse
As always delicious cupcakes!
Cupcakes for Rehearsal Dinner.
Delicious. nice assortment
Simply Amazing
I have yet to come across a cupcake that wasn't to die for, but these fruit ones take it to the next level. So light and refreshing!
Absolutely delicious
As always, the cupcakes were delicious, so moist and tasty. We really enjoyed the variety of flavors in the fruit basket assortment. Definitely the best cupcakes we have ever had the pleasure of enjoying!